The 2021 Chevrolet Silverado or the 2021 Ford F-150?
Are you tired of searching through website after website of information about vehicles when you are car shopping? Do you not have any idea where to start when it comes to buying a new vehicle or comparing models? Would you like some quality assistance and no hassle when it comes to purchasing a new (or new to you) vehicle? Come visit us at Performance Chevrolet and we will gladly assist you in the purchase of your next vehicle. Not ready to come in yet? No problem there either! We are more than happy to assist you over the phone or online.
We also like to provide suggestions to our customers when searching for a new vehicle, and with those suggestions, some information about vehicles. This is so our customers can make the best decisions possible for themselves! We believe that car buying should be made easy, and by providing information up front, customers can feel the no hassle quality service we provide. Let's jump into a comparison of the 2021 Chevrolet Silverado and the 2021 Ford F-150

Which is more powerful: The 2021 Silverado or the F-150?
When it comes to power, you want to make sure you are making the correct decision. You want something that is reliable and will get the job done. So, let's take a look at the 2021 Chevrolet Silverado first. This vehicle has a 4.3L V6 Engine giving 285 HP to its driver. There is also a 5.3L V8 option available with 355 HP.
The features of the 2021 Chevrolet Silverado are amazing. But, in order to make an informed decision, we should compare that to the 2021 Ford F-150. This vehicle has a 3.3L V6 Engine boasting 290 HP for its driver. Just like the Silverado, the F-150 has another engine option available. You can opt to get the 3.5L V6 EcoBoost Engine with 400 HP.
When it comes to power and the standard engines of the two vehicles, the 2021 Chevrolet Silverado edges out ahead of the 2021 Ford F-150.
What features do the 2021 Silverado or the F-150 have?
With the ever changing importance of features in vehicles in today's market, it is important to take a look at what these two specific vehicles have to offer. In the 2021 Chevrolet Silverado, some of the features include 2020 KBB.com Best Resale Value top 10 vehicle. It also has the best in class with 89.1 cu.ft. cargo bed volume. The MPG rating for 2WD is 16 City and 21 Highway.
In the 2021 Ford F-150, the features include 77.4 cu.ft. cargo bed and available features like a center flow through console and a Pro Power onboard generator.
Knowing the features available in each vehicle are important to a well rounded decision!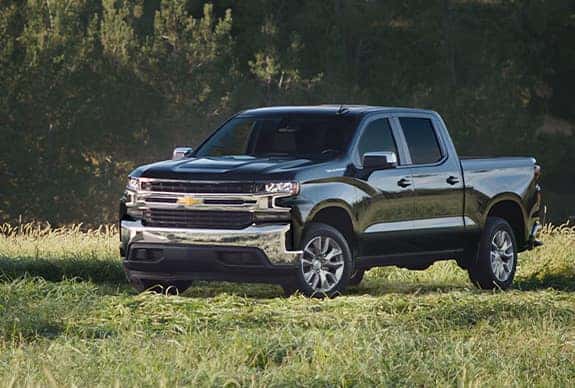 Tell me about technology and safety in the 2021 Silverado and the F-150?
Today's drivers across the nation want their vehicle to be a seamless part of their life, and to have the systems and features to stay connected at all times. This includes having power for electronics, connectivity to listen to the latest music and podcasts, and much more in the way of comfort and convenience.
Both the 2021 Chevrolet Silverado and the 2021 Ford F-150 have great connectivity, capable of connecting with your smartphone and making it easy to utilize the technology at your fingertips. Technology isn't just about comfort – it's also about safety. Both the Silverado and F-150 use the latest in safety technology to make our rides safer. The Silverado offers technology like having up to 15 camera views, 13,300lbs of max towing (when properly equipped), and an available MultiFlex Tailgate.
Whereas the F-150 offers technology options like an 8" standard touchscreen, and available options like Ford Co-Pilot 360 2.0 and BLIS with Cross-Traffic Alert and Trailer Tow Coverage.
Having knowledge of both technology and safety can help you make the best decision possible.
Which vehicle is more comfortable and has more utility space?
Driving in comfort is important to all drivers and making a decision without taking comfort into consideration would be a big mistake! Both the 2021 Chevrolet Silverado and the 2021 Ford F-150 provide comfort features that even the most picky of backseat drivers or annoyances won't have something to complain about. The 2021 Chevrolet Silverado has features available like 15" diagonal Heads Up Display, two rear seat storage compartments, and has best in class front head and leg room.
The 2021 Ford F-150 has available features that include a 12" digital productivity screen, fully flat load floor (in the SuperCrew Models), and SYNC 4 with Enhanced Voice Recognition.
Not forgetting about comfort is important and using the information provided should help any driver make an informed decision!

Hopefully, we were able to provide some insight into both the 2021 Chevrolet Silverado and the 2021 Ford F-150. We want you to be happy in the vehicle you drive, and hopefully knowing what each vehicle has to offer makes the decision between these two vehicles a little clearer. Ready to test drive a new 2021 Chevrolet Silverado? Visit us at Performance Chevrolet and let us help you drive off in a new vehicle, today!